New Saronia Lounge - Bar and Grill
Mist, Ward 23, Plot 7 on Balmung
Windsday Evenings ((6pm Pacific/9pm Eastern))
((Listed prices are IC, traded gil will be considered a tip))
New Saronia Public Night
Every sennight, New Saronia invites you to come down to our lounge for good food and good company. Saronia is a place where anyone and everyone with an open mind, open heart, and empty stomach are welcome to come and partake. One never quite knows who might come down those stairs so expect the unexpected and prepare to have a broadened horizon.
Appetizers

Finger Sandwiches
Delectable morsels with assorted breads, cheeses, veggies, and cold cuts; a favorite of V'kebbe's
1000 gil
Duck Wings
Grilled or fried these come locally sourced from the Black Talon Market (also available raw for that authentic Black Talon experience)
1400 gil
Catch of the Day Sushi
May not win any awards for presentation, but these "rolls" are guaranteed fresh
600 gil
Hummus Plate
Extra smooth blend of chickpeas with tahini, garlic, cumin, and lemon; served with fresh naan
675 gil
Bruschetta Platter
Fresh Ishgardian bread roasted until golden brown and brushed with garlic and olive oil before finally being topped with diced tomato and basil
1100 gil
Buuz Basket
A man who never eats buuz, is never a whole man! Xaela inspired dumplings with various ingredients inside.
1200 gil
Psalty's Coleslaw Shack
Free garlic bread with two or more slaws
Make it a combo: Side of fries or garlic bread and a root beer for 200 gil
Coleslaw Wrap
Coleslaw and cheese wrapped in flatbread with your choice of dodo, hog, buffalo, or chicken; comes spicy or mild
650 gil
Crispy Szechuan Slaw
Stir fried coleslaw with liberal use of garlic and chili peppers; Caution: Extremely Spicy
700 gil
Saronian Bulgogi Slaw
Stir fried coleslaw with marinated grilled buffalo or hog; barely any spice to this one
900 gil
The Original
Can't go wrong with the Original, just like homemade! Also available with kale and orange
300 gil
Soups and Salads

All soups available in a sourdough bread bowl for an additional 200 gil
Tomato Basil Bisque
This creamy tomato soup garnished with chopped basil and parmesan cheese is the perfect companion to our Grilled Grilled Cheese
500 gil
Popoto Soup
A hearty and delightfully creamy popoto soup garnished with onions, cheese, wild boar bacon crumbles, and sour cream
600 gil
Button Mushroom Salad
Delicate button mushrooms are the star of this gourmet salad, garnished with blue landtrap leaf for color
400 gil
Rolanberry Spinach Salad
Sliced rolanberries, red onions, chopped candied nuts, and young Cieldalaes spinach topped with a poppy seed dressing crumbled cheese
600 gil
Coerthan Onion Soup
An Ishgardian favourite, this simple but refined onion soup is served with a baked cheese topping
500 gil
Minestrone Soup
A Gridanian recipe, this robust tomato-based vegetable soup featured popotoes, carrots, celery, beans, garlic, and seasonal squash
600 gil
Nagxian Mango Salad
A Far Eastern recipe, mango, bell pepper, onions, and cilantro are served on a bed of cabbage and topped with chopped peanuts, sliced pepper, and a spicy garlic peanut dressing
600 gil
Terncliff Salad
A recipe that traces its origins back to costal Ilsabard, this bed of mixed greens is topped with grilled dodo, tomatoes, mixed onions, cucumber, black olives, crumbled cheese, and a creamy garlic dressing
800 gil
Red Curry Soup
A creamy curry broth with a kick is the signature of this Far Eastern inspired soup, with thinly-sliced stewed dodo, spinach, kale, chickpeas, bell pepper, tomato, and onions
800 gil
Seafood Chowder
A hearty soup filled with the freshest catch of the day and assorted seasonal vegetables
900 gil
Southern Seas Poke
A lalafellin specialty, raw salmon or tuna fresh from the sea is served over a bed of mixed greens, rice, or half of each, with assorted toppings and a choice of shoyu, ponzu, or miso dressing

Available toppings include: crab meat, cucumber, mango, cabbage, soy beans, onion, peppers, cilantro, ginger, alligator pear, carrot, and fine roe
1100 gil
From the Bar

Vineyard of the Ancients
Reproduction of a red wine believed to be enjoyed by well off diners throughout the Allagan Empire
1250 gil
Grand Continental
Bourbon sourced in Ilsabard and passing through ports in Othard before finally settling in Eorzea, served on the rocks
625 gil
Rhoswen Special
Highest proof rum available, straight from the Sanguine Sisters
1100 gil
Syrcus Cafe
Authentic Allagan ground coffee donated by a local collector
250 gil
Root Beer
Fizzy drink gratiously donated by Ishgardian science enthusiast
250 gil
Leoh's Choice
Apple juice made from only the highest quality apples; Caution: may be too sweet for some
300 gil
Mint Orange Juice
Tall glass of fresh orange juice with just a hint of mint, a favorite of Saronia's resident imp
300 gil
Titan Special
Orange juice, milk, powdered sugar, and vanilla serves in a tall glass with slushy bits of frozen orange juice
300 gil
Assorted Juices
Other fresh fruit juices using only the best ingredients, sourced from a local Summerford farmer
300 gil
Ala Mhigan Fruit Tea
Gyr Abanian black tea with raspberries, blueberries, pineapple, orange, and black currant syrup, topped with edible wildflowers
300 gil
Apple Tea
Tea steeped in apple slices with added cinnamon and honey, with an extra infusion of Leoh's Choice apple juice
300 gil
Chamomile Tea
Soothing herbal tea with added honey for sweetness and lemon for a sour flavor, a favorite of our resident physician and tea aficionado
300 gil
Assorted Teas
Various black, green, white, and herbal teas with a variety of additives for custom blends
300 gil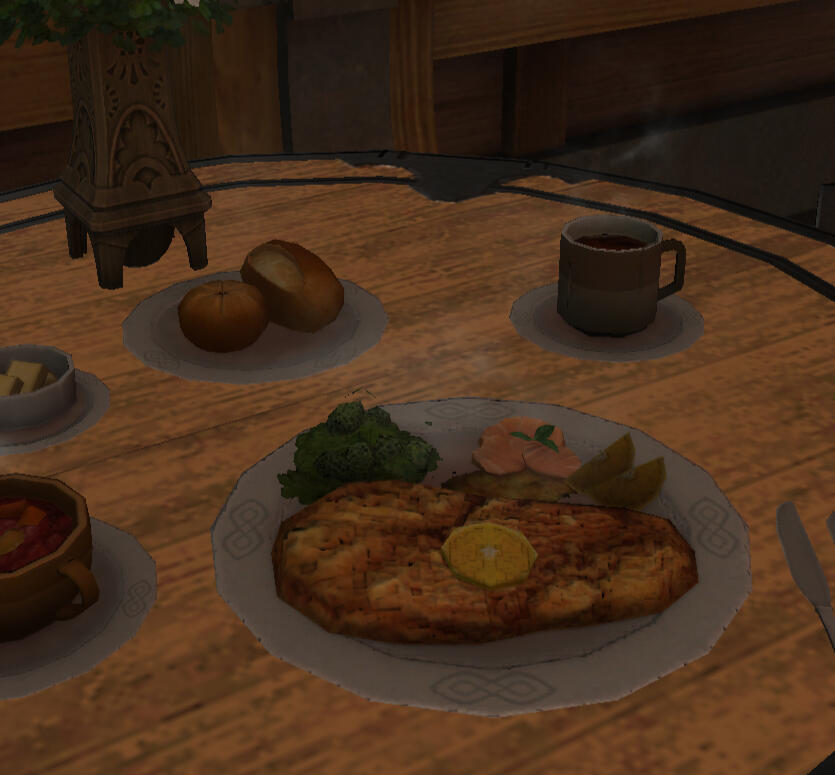 Buffalo Tenderloin Steak
Locally sourced from the Black Talon Market, served with bacon and fresh vegetables
2500 gil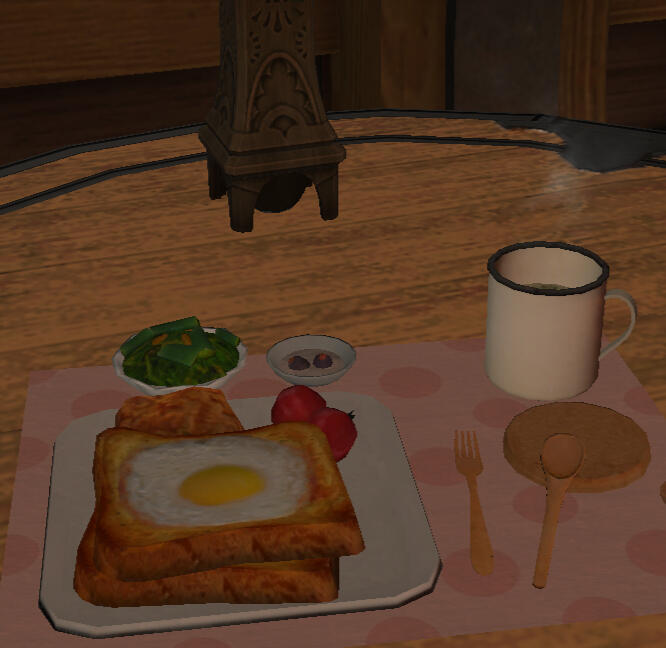 Grilled Grilled Cheese
Allagan barrier technology repurposed to add an extra layer of grilling; you know you're curious
1000 gil
1400 gil - with sliced boar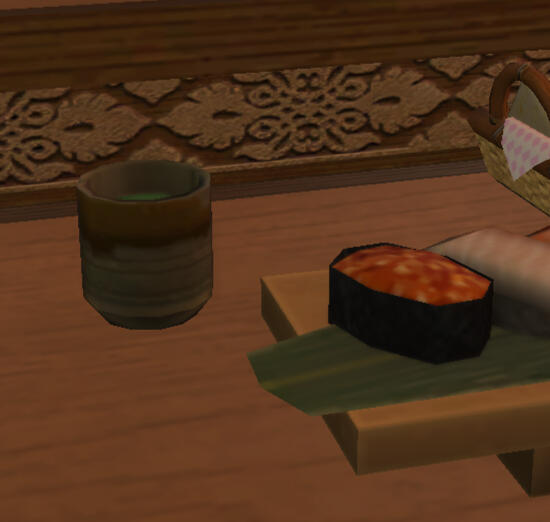 Buffalo Tartare
Black Talon Market authenticity for all! Raw buffalo sirloin lovingly chopped with dual-wielded chef's knives, rolled in a dressing of egg yolk and shallots, then served with fried popotoes
2500 gil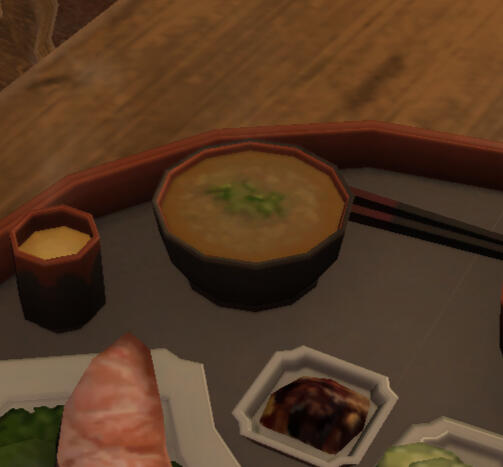 Dodo Liver Mousse
Chilled cup of pureed dodo liver, onion, and apples; enjoy this creamy take on a Black Talon staple
1500 gil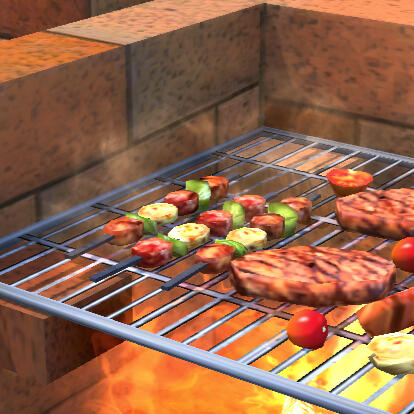 Barbeque Shorlog
Traditionally made with dzo meat and peppers, but available with a variety of meats and vegetables for the skewer
2500 gil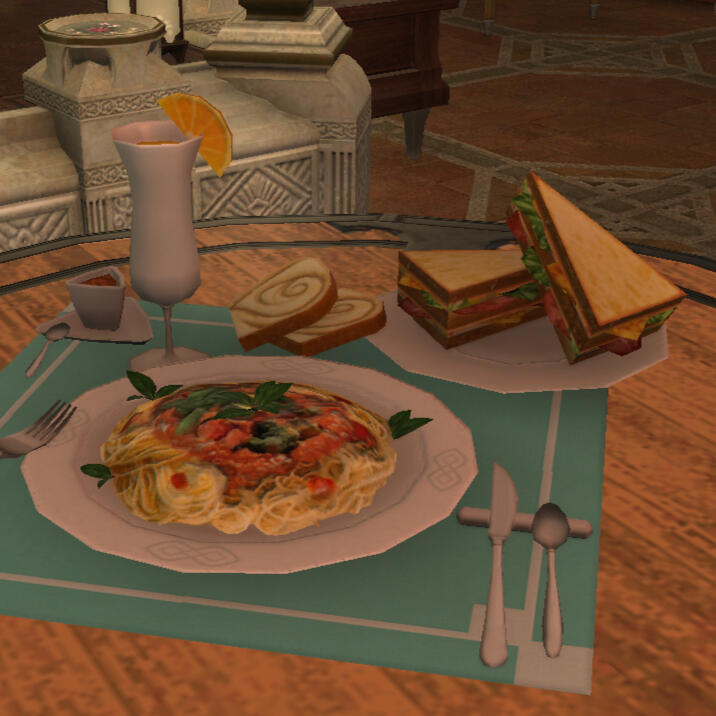 Psalty Veggie Pasta
Spaghetti with cauliflower, broccoli, mushrooms, red peppers, and topped with marinara, parmesan, and fresh basil; did you think he only made coleslaw?
1300 gil
Banquet Style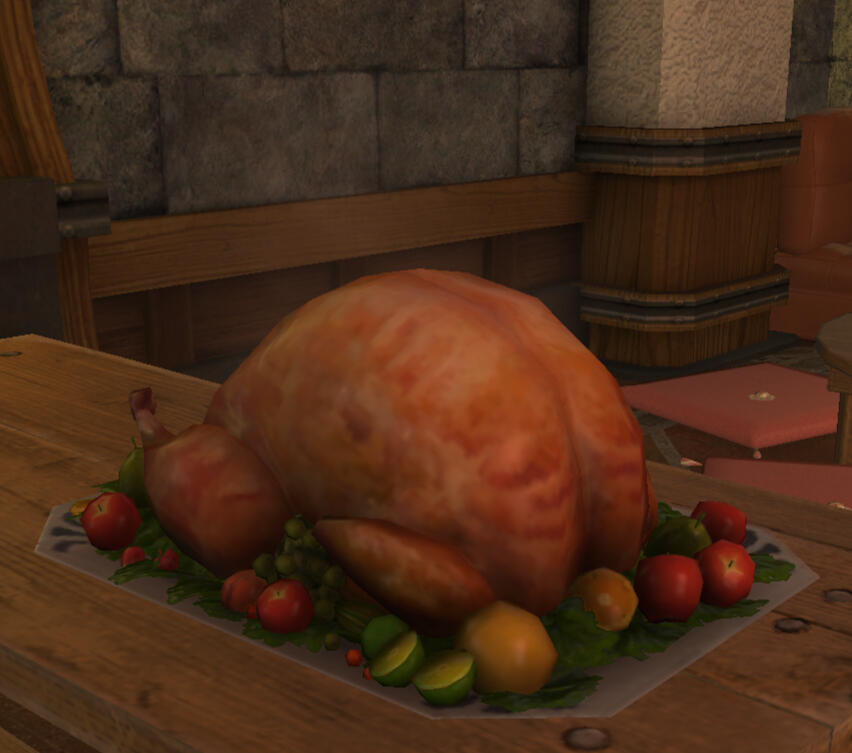 Pheasant with Stuffing
Large dragon-roasted pheasant stuffed with veggies, cherries, pecans, sage, and parsley, enough for the whole table! Each diner also will get a side roll and bowl of mashed popotoes and gravy
8000 gil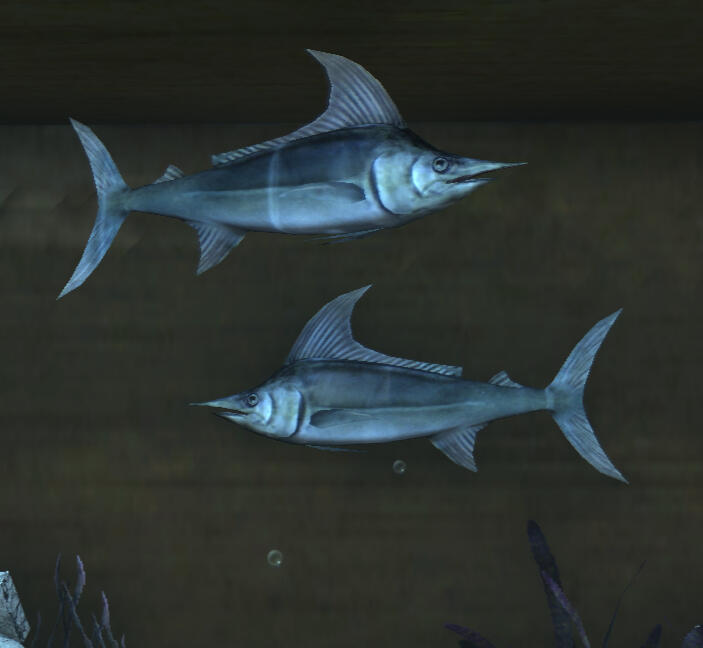 Grilled Swordfish
Large swordfish sliced neatly on a platter with a thin coat of mayo. The sauce is made with shallots, lemon, white wine, and heavy cream
8000 gil
Desserts - Care of:
Hearty Delights
Powdered Sylph Pillows
Known as the pillowy delight of the pastry world, these beignets are made with love sprinkled with a heathy dose of sugar on top. Rolanberry or chocolate drizzle available for an extra charge
800 gil
Blood Orange-Ganache Tart
Taken from the paths of Upper La Noscea, the blood orange taste will sit on your tongue, tangy sweet, while the chocolate underneath gives that savory flavor. All this topped on a small layer of graham cracker
800 gil
Heavens' Sunshine
A decadent light pie made from the Heavens' lemons from the Sea of Clouds. Light, air whipped cream tops this lemon pie. Served by the slice
400 gil
The Tilted Ochu
Despite the name, this particular donut is twisted to make a 'cute' version of the creature. It comes in three flavors: plain, vanilla, or chocolate. For a little extra, it can be dipped in either white chocolate ganache or dark chocolate. Also, this serves well with rolanberry or lowland grapes
800 gil
Carbuncle's Favor Confectionary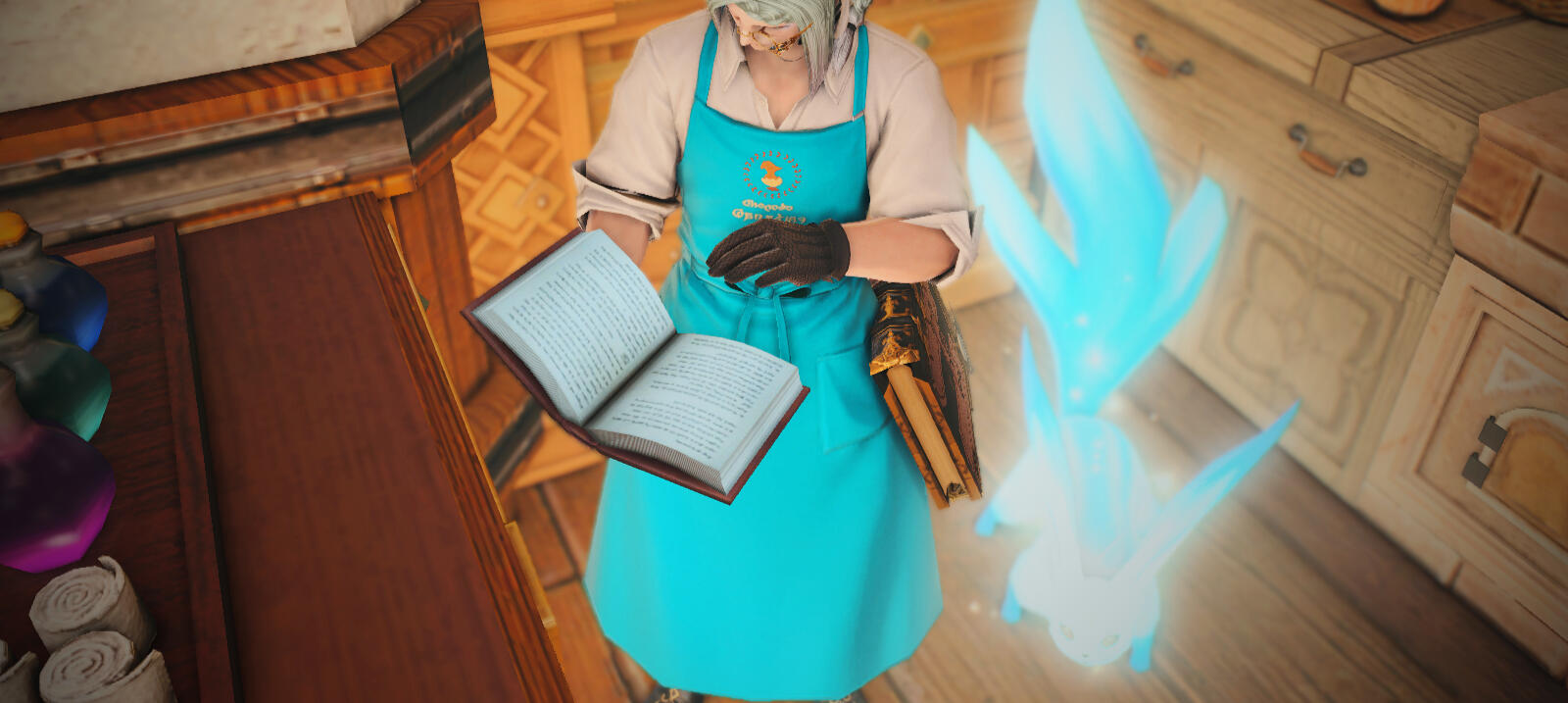 All Smiles n' Snickers
Snickerdoodle reimagined as a cheesecake, complete with sugar cookie crust and cinnamon sugar powder. Rimmed with whipped cream rosettes and snickerdoodle cookie shard.
Enjoy by the slice, or share the grins with an entire cake (generously pre-sliced for 10)!
480 gil - Slice
3840 gil - Cake
S'more to Love
A cake blending chocolate divinity 'twixt graham crackers and rolled cinnamony goodness, topped with a golden, fluffmallow crown. Enjoy by the slice, or share the love with an entire cake (generously pre sliced for 10)
480 gil - Slice
3840 gil - Cake
Bobbin' Apple Barrel Cake
Decadent spice chocolate swirl cake covered in whipped buttermilk frosting under oozing crowns of dark chocolate and salted caramel, sprinkled with sea salt and crushed peanuts, and adorned with caramel-dipped, faerie apple slices.
Enjoy by the slice, or spirit away an entire cake (generously pre-sliced for 10)!
510 gil - Slice
4080 gil - Cake
"Sihn"namon Roll
Large pumpkin roll with cayenne laced cinnamon filling and topped with a spicy, dark chocolate glaze. Not for the faint of taste buds.
360 gil
About Us
Our FC was founded on the ideal of providing a place where anyone could come and play any kind of character desired. With that in mind, Saronia has and anticipates a broad level of acceptance for lore bending. We're friendly to Garleans, Beastfolk, Dragonkin, denizens of the First (and other Shards), those with over-aspected aether (such as Voidsent or Sin Eaters), or just about anything else that might darken our doorstep.

One possible exception is the Public Night, the events every Wednesday night are designed to be something of an "open house" that is accepting to everyone In Character so everyone is encouraged to put their best foot forward in a sense and try to fit in with Eorzea at large. This is to allow those that play average Eorzean characters to feel secure about their visit to New Saronia and not have to worry about reconciling or flat out retconing of some lore-bending aspect of the FC being pushed in their face during the Public Night. The goal once again is to be as inclusive as possible. Please feel free to reach out to any of our staffers with questions, comments, or concerns, we'll continue to make our event the best it can be for everyone.
Friends of Saronia
((Promoted groups or events that are not run by Saronia))
Black Talon Market - Alternating Thursdays in Goblet Ward 10, Plot 4 on Mateus
Hearty Delights - Goblet Ward 20, Plot 18 on Balmung
Carbuncle's Favor Confectionary - Every 3rd Thursday in Mist Ward 16, Plot 44 on Balmung
The Sleepy Nomad - Every 2nd Thursday in Mist Ward 16, Plot 44 on Balmung
Pizza

Thin and Cheesy
Flatbread like crust baked to a crisp topped with Rilo's spiced marinara sauce and cheese
1300 gil
Traditional Margherita
Traditional favorite of Rhemi's, hand tossed pizza with marinara sauce, cheese, and basil, cut into squares
1600 gil
Gourmet Meat (Extreme)
Between the marinara and cheese layers is a collection of gourmet meats lovingly provided by the Black Talon Market
3000 gil
Lominsan Market
Despite the efforts of the mushrooms and red peppers, this pizza topped with Lominsan Anchovies is still rather salty
1700 gil
Chicken Tikka Masala
Near eastern favorite with a kick, topping a layer of cheese on hand tossed crust
3000 gil
Veggie Delight
Assortment of fresh veggies including tomatoes, olives, peppers, onions, and button mushrooms
2800 gil
Snack Bar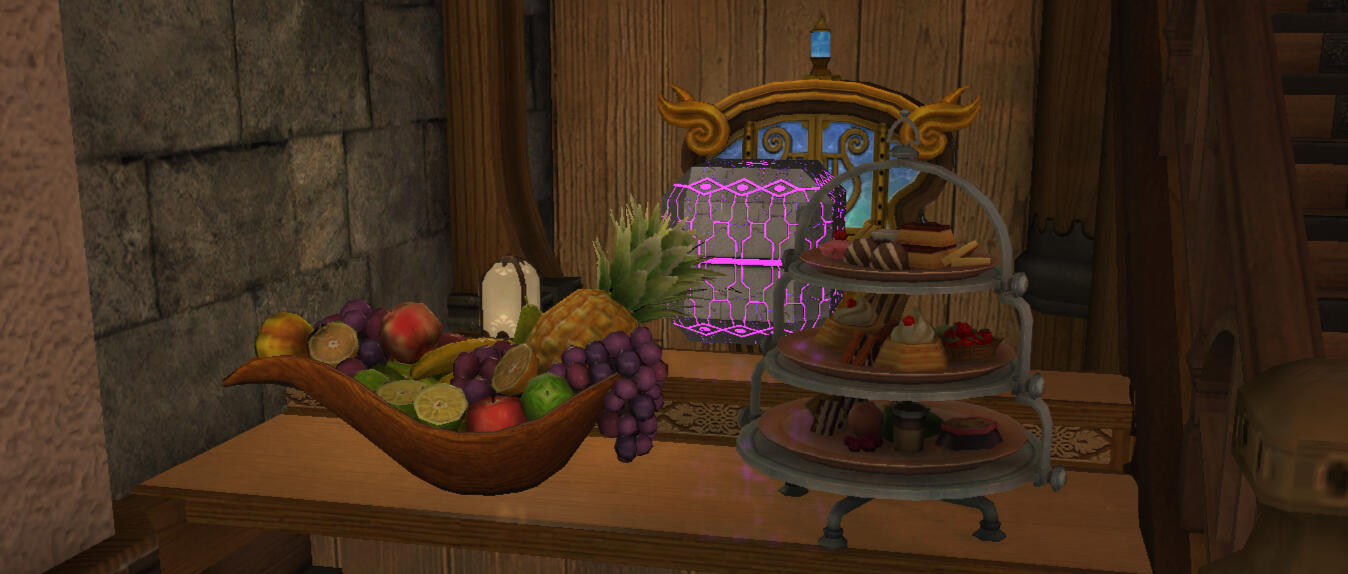 Brownies
Delicious brownie served in a personal plate; get it a la mode: fudge, sprinkles, crushed peanuts, whipped cream, and a cherry topper
600 gil - Plain
800 gil - A La Mode
Ice Cream
Frozen treat inspired by the Sleepy Nomad's beloved dessert; available flavors are chocolate and vanilla
200 gil - 1 Scoop
300 gil - 2 Scoops
Fresh Fruit
Lovingly supplied by a local farmer, available as individual fruits or cups of fruit diced and mixed
250 gil - Fruit
400 gil - Cup
Holy See
Ornate Ishgardian pastry topped with cream cheese (optional) and filled with cheese or assorted fruit fillings
400 gil
Popoto Crisps
Thinly sliced popoto pan fried to a crisp golden color, served in a small carryout bag
375 gil
Moogle Puffs
Oven baked pastries filled with varied sweet and savory fillings
425 gil
Custard Pie
Alright look, it's cheesecake, but Rilo really hates calling it that, so it's on the menu the way he wanted it
800 gil
Dessert Pizza Slice
Cinnamon baked sweet dough with mousse and white chocolate topped with milk chocolate "pepperonis," hot fudge, caramel, and whipped cream; options include bavarian stuffed crust, nuts, fruits, and chocolate sprinkles
700 gil